Britain is an ageing society. Did you know that nearly 1 in 5 people in Britain are over the state pension age?
Of course, that brings challenges, but we think it's also something to celebrate. Our extra years are a gift – God's gift of age.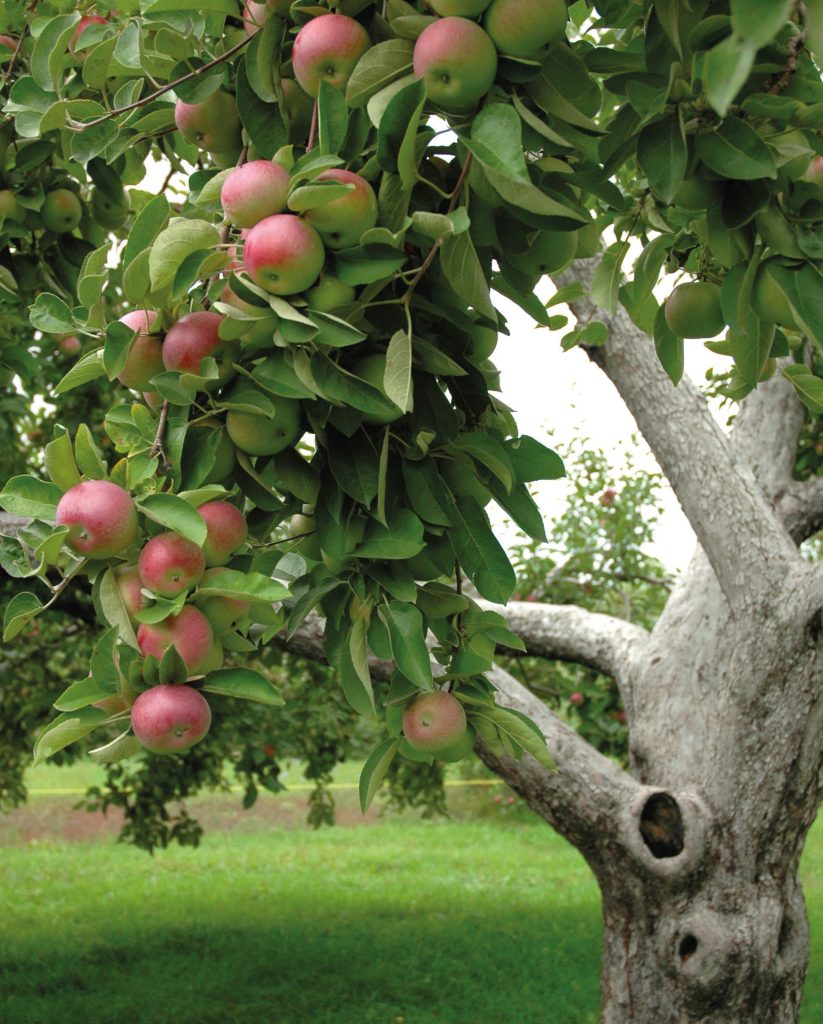 "They shall bear fruit
in old age,
they shall be fresh and flourishing."
Psalm 92: 12-15
The Bible reminds us, in the stories of Abraham and Sarah, as well as Simeon and Anna, that God expects new and surprising things from older people and that our way of looking at things is not always God's way.
Here are the sections (you can jump to specific section by clicking on the titles):
What your parish can do:
Further Resources – risk assessments, plus checklists and more from Time to Shine, Leeds Older People's Forum and Caritas.
What your parish can do
Perhaps you are thinking about older people and how they can be more involved and more supported in your parish, or how you might want to change what you are doing at the moment. Every parish is different so there is no single 'right way'.
A Starting Point:
Look around at Sunday mass and have a quick count of the number of older people. Is it more than half the congregation?
How many of the essential parish jobs, from flowers to finance, are done by older people?
Since the lockdown due to the pandemic, are there some people missing?
"I think of how many of you make yourselves available in parishes for a truly valuable service; some of you are dedicated to decorating the house of the Lord, others as catechists, leaders of the liturgy, others as witnesses to charity."

POPE FRANCIS, TALKING ON GRANDPARENTS DAY, 2ND OCTOBER 2016
Getting things going:
Here are a few ideas to get the ball rolling:
1. START THE CONVERSATION in your parish by talking to your parish priest and relevant parish groups, like the SVP conference.
What other groups, and also which people, in your parish might be interested in helping to make older people feel valued? Here are some suggestions of who to approach for a chat:
Parish priest
Parish Council
Religious Sisters
St Vincent de Paul Society
Legion of Mary
Union of Catholic Mothers
Parish prayer groups and other groups
Older people in the parish who don't belong to any groups.
2. ASK PEOPLE IN THE PARISH whether they think older people are valued and welcomed and what suggestions they have to support people in later life.
Below is a simple survey called 'Your Opinion Matters' which you can download and print out to give to people and encourage them to fill it in.
TIP: At this point it is a really good idea to AGREE ON YOUR VALUES AND AIMS which help to clarify why you are doing all of this and what you want to achieve. You might want to reflect on Catholic Social Teaching, Scripture and other sources to set a foundation.
One idea for consolidating this is to write your own PARISH PLEDGE like the one below: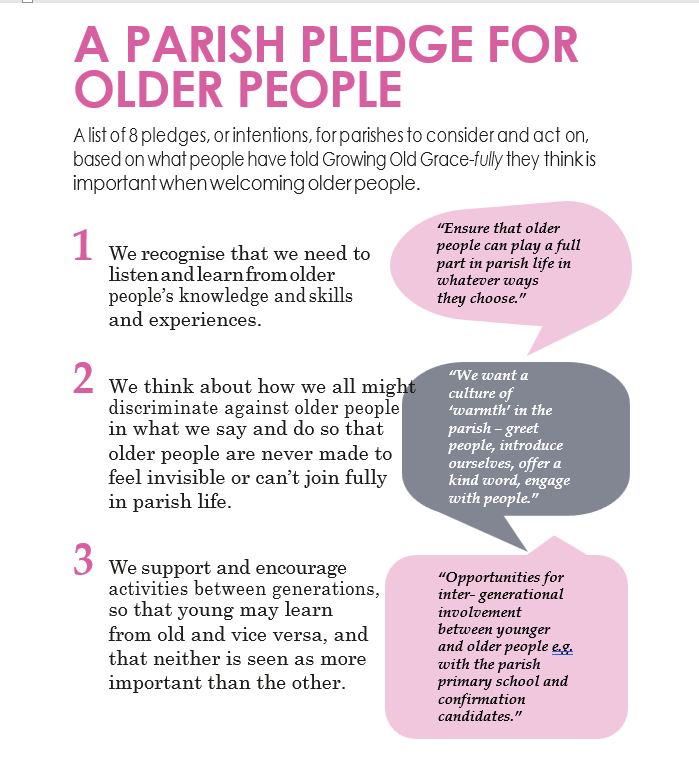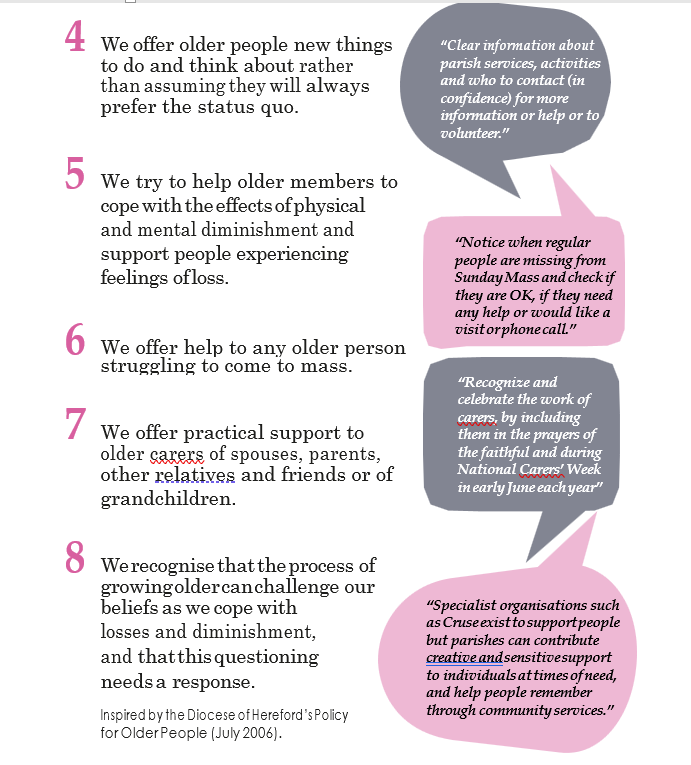 You can download 2 versions of this Pledge below:
3. HOLD A QUIZ at some of your parish meetings to help people relax and enjoy thinking about the challenges and opportunities of being an older congregation.
There's a Quiz below (and an Answer Sheet for the Quizmaster) designed to help people think a bit more about God's gift of age in an entertaining way.
4. CHECK YOUR ENVIRONMENT make sure that everyone can get in and around the church and hall and will feel welcome.
Starter CHECKLIST:
Can people who use pushchairs, wheelchairs and other mobility aids get in easily?
Is there a loop system to help people with hearing loss?
Are there large print hymn, mass books and copies of the bulletin available for people with sight loss?
Is there good lighting?
Are there any trip hazards such as mats or uneven flooring or heavy doors?
Are the toilets easy to find and use?
Is drinking water on tap at all times, as well as tea and coffee after services and at social events, to help prevent older people from getting dehydrated?
NOTE: There are some more practical checklists in the Further Resources section below.
5. START PLANNING YOUR ACTIVITIES AND APPROACHES making sure that people are involved along the journey.
We asked some older people this question:
"WHAT DO YOU THINK OUR PARISHES CAN DO TO HELP WELCOME OLDER PEOPLE?" Here are some of their excellent ideas: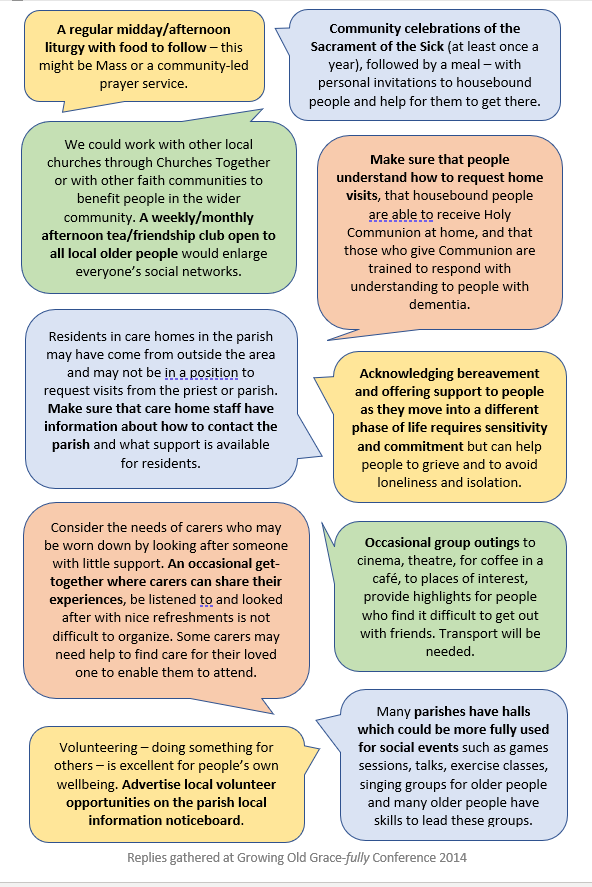 NOTE – AUTUMN 2021: OBVIOUSLY DUE TO THE CONTINUED RISK OF INFECTION FROM THE COVID-19 VIRUS, PLANNING ACTIVITIES NEEDS TO BE DONE VERY CAREFULLY AND SENSITIVELY.
CLICK THE LINK BELOW FOR SOME HELPFUL IDEAS IN THIS CONTEXT (scroll down to orange boxes):
IDEAS FROM OUR DISCUSSION EVENT (4TH NOV 2021)
Also note the links on RISK ASSESSMENTS.
TIP: You could also look at the CALENDAR FOR THE YEAR AHEAD in your parish and see if you want to plan specific events around Feasts or national events: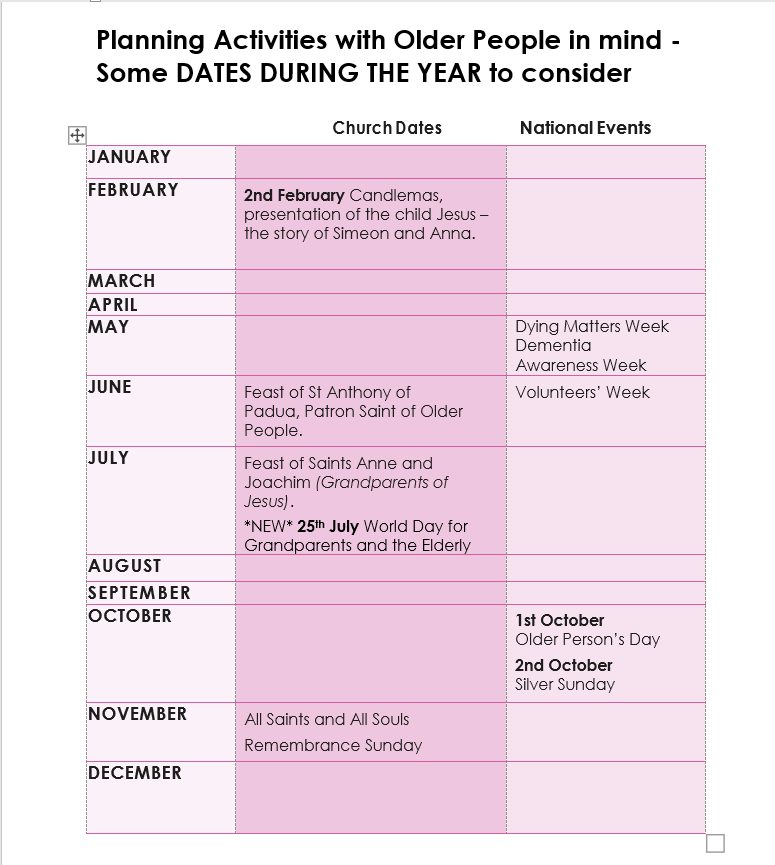 ---
Further Resources
Safety Measures and Risk Assessments:
You should always complete risk assessments for activities in your church or hall (or outside), but this is particularly important whilst Covid-19 is still a risk.
There are many examples to be found online, but here are some links that might be helpful: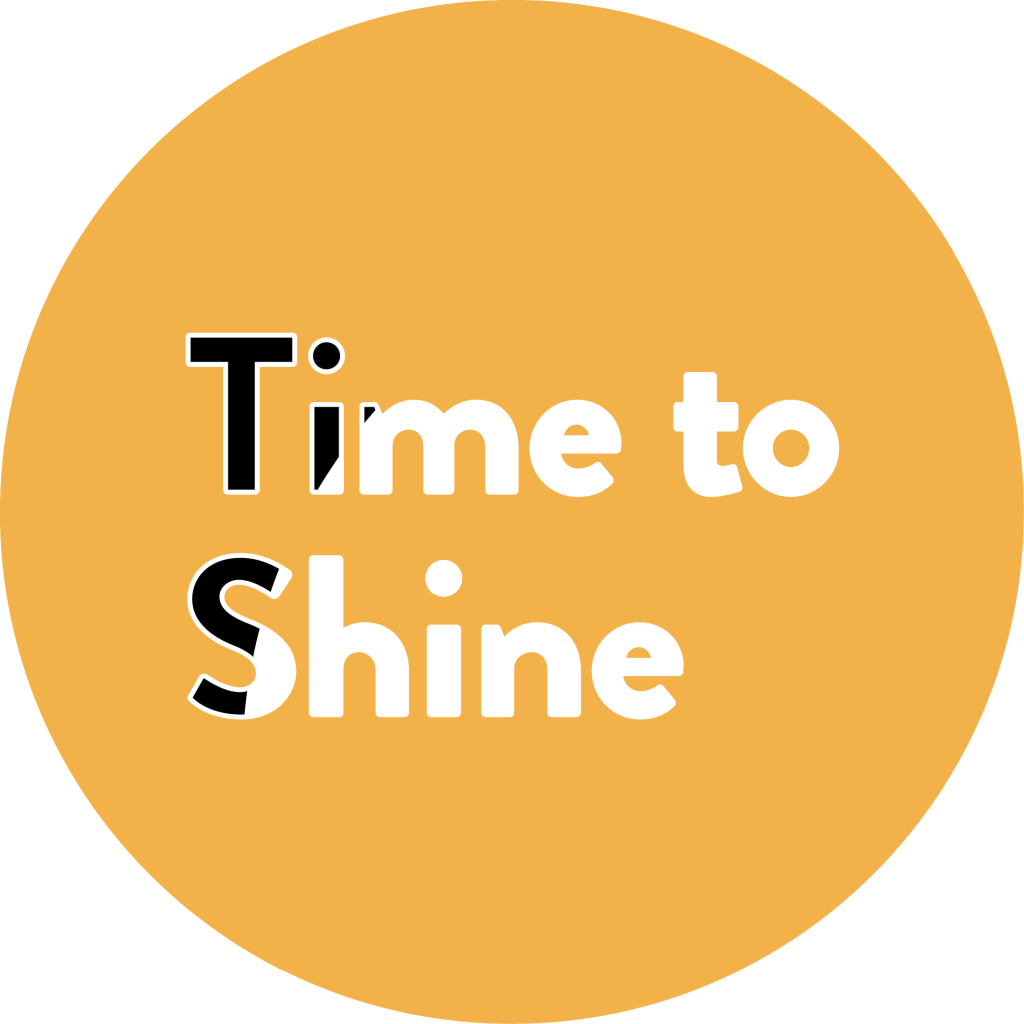 Time To Shine in Leeds have some excellent and very practical free resources for group activities on their website, from role descriptions to checklists and even including printable arrow signs for the Toilets! Take a look at all of them HERE.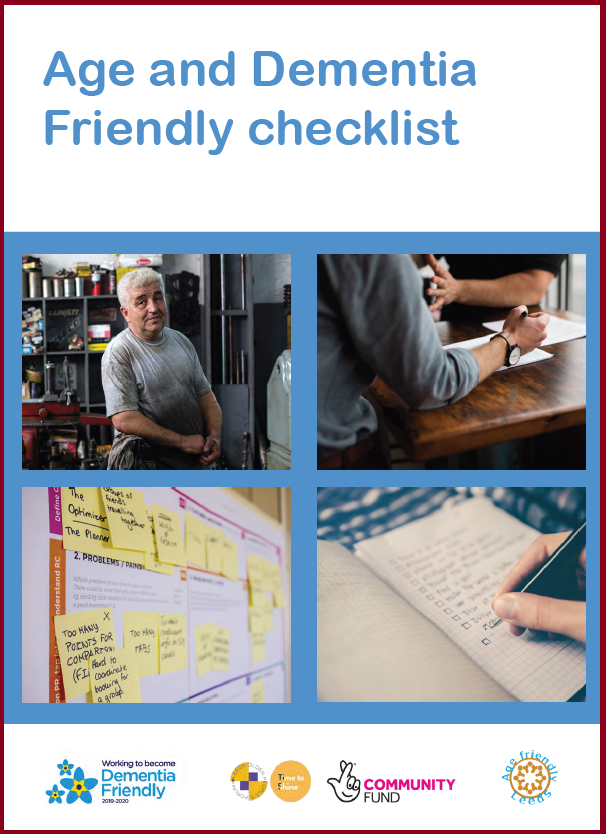 This really useful set of checklists from Age Friendly Leeds (Time To Shine/Leeds Older People's Forum) covers these aspects:
Physical Environment
Respect and Inclusion
Communication and Information