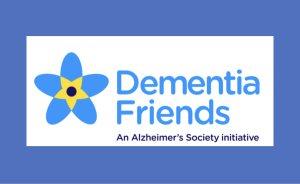 Learn more about what it is like to live with dementia and turn that understanding into action.
What is a Dementia Friend?
A Dementia Friend is somebody that learns about dementia so they can help their community and people around them.
How to become a Dementia Friend
Dementia Friends Sessions are available online (via online webinar or livestream video) and take only 45 minutes. In most cases you will be able to interact with others in the group via the chat.
During the friendly and interactive Session you'll learn more about dementia, how it affects a person and what you can do to help people affected by dementia in your community.
There are lots of sessions to choose from so you are sure to find one at a time that suits you!
Dementia Friends in Churches
If you are thinking about how your church or parish can be more Dementia Friendly, one of the best ways to start is to ensure a few people attend one of these Dementia Friend Sessions and then together you could work through a 'Dementia Friendly Church Guide' like the ones mentioned on THIS PAGE (scroll down to 'Dementia Friendly Churches').