The Diocese organised the first Dementia Friendly Service of Lessons and Carols at the Cathedral Church of St Anne on 8th December 2018. Our hope and our prayer is this initiative continues and grows each year so not just the Cathedral but different parishes across our Diocese hold a similar Service.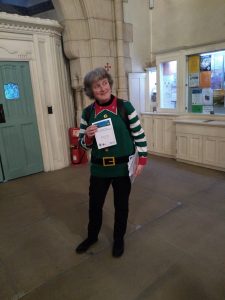 A Dementia Friendly Service is not just for people living with dementia and their carers, but for everyone. It is a relaxed Service, so if anyone wants to walk about it's not a problem, with familiar hymns and (say) four short readings that lasts about 30 minutes… no longer. The 2018 Service booklet is here for inspiration. 2018 Dementia Friendly Service of Carols
Your parish might want to invite children from your local school to help with leading the singing. We were delighted that the children from Holy Rosary and St Anne's Catholic Primary School were at our 2018 Carol Service. One person said "The choir were just beautiful. I could have listened to them and watched them all afternoon. Gorgeous expressions and good little singers. A credit to the school."
After the Service, you could serve mince pies and refreshments. We approached a local supermarket, explaining that this was a Dementia Friendly Service and all were welcome, and the store donated 100 mince pies, tea, coffee and soft drinks for the children. Everyone left with a smile on their face.
"Yet, in thy dark streets shineth the everlasting light; the hopes and fears of all the years are met in thee tonight." Phillips Brooks