Sister Catherine Houlihan SP died peacefully on Saturday 23rd February. She was known to many in the Diocese of Leeds. She had been an inspirational Headteacher and in Bishop David Konstant's time was Vicar for Religious. She had also been responsible for bringing the Beginning Experience – a Catholic programme for bereaved, separated and divorced adults – into the UK. Some dioceses had teams who supported many people in Team Ministries to explore their loss and 'turn a corner'. The Leeds Team, with the guidance of Sr Catherine, helped many people through a difficult period in their lives.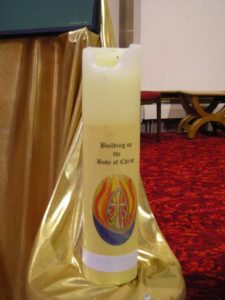 Sr Catherine and Sr Mary Bernard Potter, both Sisters of Charity of St Paul supported Growing Old Grace-fully in its work and offered several days of Reflection for older people. The last one they gave was in Harrogate when Sr Catherine was in her nineties! The Day was supportive and although recognised some of the losses and challenges of older age also was encouraging and optimistic. The Sisters had also taken many people on pilgrimage in the footsteps of St Paul to Cyprus, Turkey and wherever St Paul and his companions ventured, Srs Catherine and Mary B followed on a journey of prayerful pilgrimage, scriptural exploration and companionable meals where many friendships were forged. Many people remember the support they have given over the years spiritually, educationally and in their local parishes.
Sr Catherine will be much missed. Her wise counsel, kind support and encouragement, humour, resilience in illness in recent years, and gentle, prayerful example of living into older age has been an inspiration to countless people. May she rest in peace.
Pippa Bonner