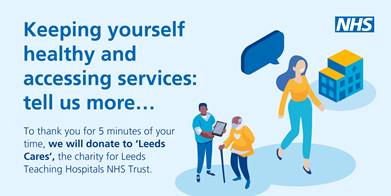 The NHS wants to hear the views of older people as they are regular and important users of healthcare services in Leeds. To fill in this 5 minute survey, click HERE.
They want to better understand how the general public use NHS health and care services in Leeds. By taking part in this survey individuals will support their local NHS develop a health awareness campaign to help people understand which service they should access when they're unwell or injured.
Your views will directly impact changes to healthcare services.
In addition, for the first 500 responses, £1.50 will be donated to Leeds Cares (the local NHS charity).

The survey is online and takes around 5 minutes to complete, all answers are anonymous – they don't ask for names and nobody will contact participants about their answers.
Click HERE to complete the survey – thank you very much.