How to create a personal spiritual reminiscence box.  A resource for the family, friends and carers of people with dementia. 
© the Diocese of Wrexham 2015. Written by Margaret Hinton, Marriage and Family Life Commission and Clare Steel. Cost £7 and available from: margaretmfl@hotmail.co.uk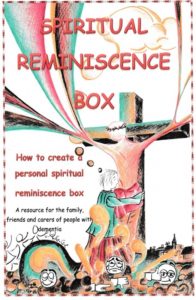 This is a useful, user friendly resource "designed to help friends, family and caregivers find simple ways to carry on a spiritual life for their loved ones" at home and in care. It is a pack of explanatory cards outlining in a simple way the theory of Reminiscence, why it is helpful, how to create a box, giving ideas and containing a CD of old, familiar hymns for everyone to use. This last offering is on the basis that people may remember the older hymns more easily than newer ones and feel comfortable hearing and singing them.
Reminiscence is used widely with older people to encourage them to talk about things they remember and reduce stress. It helps to affirm people: who they are and to relive previous times and achievements. "Reminiscence can help to improve the mood, cognitive ability and well being of those with mild to moderate dementia and if a multi sensory approach is taken even in to later stages of dementia." This pack is about encouraging spiritual reminiscence so that spiritual aspects of the person's life story can be conveyed from home to care home and used by family and professional carers. "There is increasing evidence that stimulating a range of senses [sight, hearing, smell, touch and taste] can be very effective in engaging an individual with dementia and other illnesses affecting cognition".
There are illustrated cards with useful tips how, where and when to use the resource. It has a card for each of the senses with ideas, and a list of helpful contacts. This Pack also has ideas for group reminiscence.
At a recent talk I attended, Margaret Hinton spoke about a Box that she helped a relative create. It included a prayer book with an ingrained leather cover to touch, smell and look at, containing his holy pictures. (Remember those?) It included his rosary beads for him to pray with and hold. (I know a lady who gets comfort from fingering her beads with her restless hands. The familiar feel soothes her.)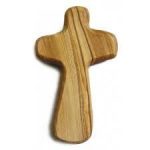 I plan to start my Spiritual Reminiscence Box now with objects that remind me of my faith and practice. It can be added to later. I know already that I want my Box to contain an old prayer book, holy pictures from friends and children when they were little, a "clutch cross" to hold, a small picture of Rublev's Icon, a particular, smooth wooden statue of the Holy Family, smells of lilies, a copy of the Magnificat and the Beatitudes and a CD of hymns by Bernadette Farrell and others – hymns which my children may have forgotten in 20 years time. I value these objects and the memories they evoke now, and later they will help to remind me of my spiritual life and memories that might lead who knows where…I have also realised this is a useful exercise to make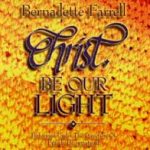 me reflect on my faith priorities and what immediately helps me to think about them. What would you choose for your Box?   
What is important to me about this Pack is that a lot of the ideas I knew already but it affirms my thoughts and collects the ideas in one place. It is a simple, user friendly pack which is very do-able on a small budget and in a short time. I think it is a valuable addition to resources for those living and working alongside people with dementia.
 Pippa Bonner, Trustee