Our parishes have a huge role in helping people live well with dementia.
Dementia mainly affects older people towards the end of life. Caring for this generation is increasingly difficult because of the rising cost of private or state care and the ageing population. More and more old people are now and will be dependent on families and communities to support them. It is too big an issue to be left up to health and social care or to Government. Parishes have a vital role to play in helping people living with dementia, and their carers, stay connected to the spiritual and community life:
when someone might have dementia
when someone has been diagnosed
when the person is trying to live the best life possible
when care becomes hard
when the person must go into care
at the end of life
Is it possible for loving church communities to get it wrong and, with the best of intentions, be unfriendly to someone with dementia? Read Mavis's Story Case study
Mike and Mo have given their permission to share a different story of how their parish has provided a pillar of support which you can read Case study 2
How to get started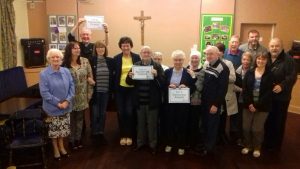 Book a 45 minute Dementia Friends session in your parish. Dementia Friends is about learning more about dementia and the small ways you can help. We have two trained Dementia Friends Champions who can offer a short information session to groups and at least 10 parishes in our Diocese have held a session. For more information or to book a session, please get in touch Dementia Friends Session .
Other resources
The Dementia Trust have a free workbook "A guide to supporting people with dementia in the local church" that we recommend which explores each of these bullet points in more detail and offers practical responses. One of the authors of this workbook, Professor June Andrews, has also written a short guide to the simple things you can do to an existing building to make coming to church easier for people with dementia – How buildings can help
Liveability have teamed up with the Alzheimer's Society to produce a free practical guide for churches and other faith communities looking for practical advice on how to create more dementia-friendly environments. They have also developed a condensed Top-ten-tips-for-Dementia-Friendly-Communities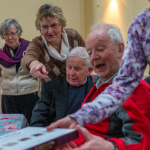 We worked with Dementia Friendly Leeds to produce these simple suggestions for how to start in your own parish Some practical ideas for helping your church become dementia friendly
There is a whole chapter on "Growing a dementia friendly parish" in our Welcoming Older People guide which includes four practical things a parish can do, recommended books, a parish action plan, as well as tips for visiting people and offering Communion to those living with dementia.
Spiritual Reminiscence Box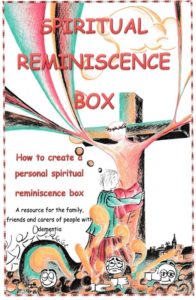 This resource from Wrexham Diocese, designed to help the families and carers of those living with dementia, is a simple A5 pack of information to guide people through the process of putting together a memory box thatt reflects the spiritual life of the person with dementia. It gives ideas for items that could be included to stimulate each of the five senses and also includes a CD of many of the most familar hymns sung simply by some of the parishioners of Our Lady of the Rosary, Buckley to encourage participation. You can order this here or by emailing margaretmfl@hotmail.co.uk . You can read more about this resource on our own Blog .
Dementia and grief
At our Dementia Friends sessions, we have sometimes been asked how to speak to a person with dementia who has had a bereavement. Maria Longfellow, an Occupational Therapist and a trustee of Growing Old Grace-fully, put some material together from a number of sources. It is an area that many wonder how best to handle but here are some resources that might be helpful.
Helping the Person with Dementia Grieve After the Death of a Loved One – Beth S. Patterson, MA, LPC.html